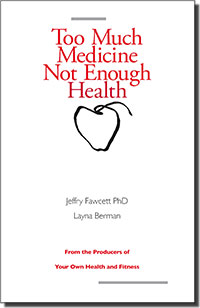 View the Table of Content
Read the table of contents to Too Much Medicine, Not Enough Health.
Read the First Chapter
Read the first chapter: The Other Health Care Crisis.

What's Inside
This collection of over 60 penetrating essays by health educators and broadcast journalists Jeffry Fawcett and Layna Berman unpack the shortcomings of the science that leads to overdiagnosis and overtreatment at the hands of the health care system. Fawcett and Berman offer an alternative to health as the absence of disease: health as the biological capacity to lead a full, rich life. The essays consist of 48 articles previously published in the Progressive Health Observer organized into 15 sections. Each section is introduced by an original essay.
Issues
Like the Your Own Health And Fitness radio show, Too Much Medicine, Not Enough Health covers a range of issues from a critical perspective, including
Why hypertension isn't a disease
Why obesity isn't a disease
How hormone imbalance is ignored
How nutrition standards are flawed
Why vitamins are good for you
How news media are biased on health
How research is biased on health
How environmental cues affect health
Why the conventional explanation for heart attacks makes no sense
Why the placebo effect is a good thing
Why mammograms don't save lives
The social determinants of health, illness, and injury
The environmental causes of health, illness, and injury
How the risk of illness is passed from one generation to the next
Why multitasking is a myth
Why menstruation is a good thing
Why wireless technologies are the cigarettes of the 21st Century