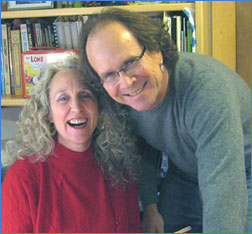 Layna Berman is a health integrationists who works with individuals on their unique health issues. Over 20 years ago, Layna originated the concept of health integration: an approach to health issues that recognizes that each body works as an ecology. Find out more…
Your Own Health And Fitness is produced at KPFA 94.1 FM in Berkeley, California. Stations across the United States rebroadcast the show each week. Some stream the show on the Internet. Click here for the list of stations that carry the show.

Latest Show
The latest show is Medicinal Honey.

| | |
| --- | --- |
| Play | Listen Now |
| | |
| Play | Slow modem? Listen here. |

Description
Medical writer Nathaniel Altman reveals the specific medicinal properties of certain strains of honey. Used for centuries for wound healing and as an antibacterial agent. Discussion includes newer research on the mechanisms behind its effects and suggestions for which strains to use and how to use them. Resources: Nathaniel Altman's honey page www.nathanielaltman.com/Honey.html ; The Honey Prescription: The Amazing Power of Honey as Medicine by Nathaniel Altman; resources on immunity and resources on alternative healing
Broadcast Date on KPFA
August 19, 2014
On the Next Show
TBA

Scheduled Broadcast Date on KPFA
August 26, 2014