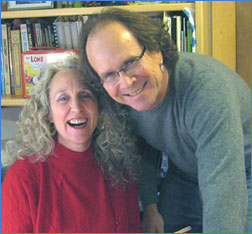 Layna Berman is a health integrationists who works with individuals on their unique health issues. Over 20 years ago, Layna originated the concept of health integration: an approach to health issues that recognizes that each body works as an ecology. Find out more…
Your Own Health And Fitness is produced at KPFA 94.1 FM in Berkeley, California. Stations across the United States rebroadcast the show each week. Some stream the show on the Internet. Click here for the list of stations that carry the show.

Latest Show
The latest show is Sun and Aging.

| | |
| --- | --- |
| Play | Listen Now |
| | |
| Play | Slow modem? Listen here. |

Description
Former chemist Marie Veronique is a skin specialist with a line of completely natural skin care products. She discusses the problems with conventional sun screens, including nano technology products, the need for some daily sun, and how to feed and repair skin. Resources: Marie Véronique Organics; Resources on cancer, resources on skin health, and resources on aging.
Broadcast Date on KPFA
July 22, 2014
On the Next Show
TBA

Scheduled Broadcast Date on KPFA
July 29, 2014